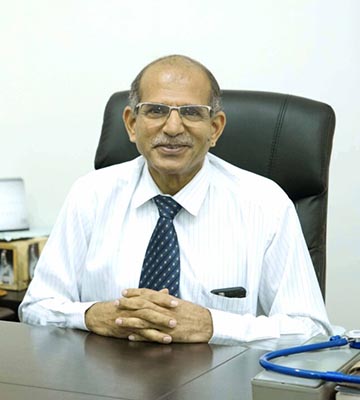 Cardiothoracic Surgeon in Pune
Dr. Ranjit Jagtap received his basic Medical College training in B J Medical College, completing his M.S. in General Surgery, under the guidance of Dr. M. J. Joshi, a world famous General Surgeon and renowned Gastrointestinal Surgeon specialised in liver surgery.
Dr. Jagtap received gold medals in General Surgery in both M.B.B.S. and M.S. during his time at the University of Pune.
He finished his Cardiovascular and Thoracic Surgery training (M.Ch.) at K.E.M.Hospital and Seth G. S. Medical College, Mumbai, under the guidance of Dr. G. B. Parulkar, who is one of the pioneers in this field.
He then received advanced training in Adult Cardiac Surgery at the Bristol Royal Infirmary, and pediatric surgery at the Birmingham Children's Hospital, UK, under the guidance of Dr. W. J. Brawn, a world-renowned Pediatric Heart Surgeon.
Dr. Jagtap has been involved with cardiac surgery since 1988 and has performed over 30,000 different heart operations till date.
Over the last few years, he has put together an excellent team of doctors, and they have collectively come up with an Ultra Modern Cardiac Care set up in Pune.
He is actively involved in Minimally Invasive heart surgery programs and has done several such surgeries with excellent results.
His special areas of interest include pediatrics – small babies, neonates and newborn heart surgery.
Dr. Jagtap is an active member of the Indian Association of Cardiovascular and Thoracic Surgeons (IACTS), European Association for Cardio-Thoracic Surgery (EACTS), American Association for Thoracic Surgery (AATS), and World Society for Pediatric and Congenital Heart Surgery (WSPCHS). He is in regular attendance at various workshops, conferences, and seminars worldwide. His active participation is invited in the form of lectures, demonstrations and live surgeries at these events.
He is involved in large-scale charitable work, providing medical treatment and heart care to the neediest section of a society free of cost. His OPD Consultation Clinic on Sassoon Road remains free for all, as it has been since starting in 1995.
His team from Deenanath Mangeshkar Hospital have performed nearly 280 cases for tribal patients from Anandwan and the Gadchiroli district at no cost to the patient. His medical team aims to continue giving back to society in such a manner and hopes to expand the scope of their humanitarian initiatives in the future.
Cardio Thoracic Procedures which we provide: